Akshara: The Content Writing Tool That Saves You Time and hassle
Develop Excellent Social Media Posts in Minutes with a Social Media Post Maker
With AI in place, social media posts are never boring. Artificial intelligence has grown greater state-of-the-art over the years making it more and more power to carry out responsibilities that historically required human interplay and supervision and now and again intervention. This may sound frightening—or might even sound too good to be true—but hear us out:

Problems while Creating Original Content
If you're creating original content for each of your social media posts, it will take you quite some time to create enough content to fill up your entire day. Why spend all that time when there are websites that can do it for you? We've already figured out what works and what doesn't so now you can focus on promoting your company rather than coming up with ways to promote it.
Solution 1: Try Social Media Post Makers Online
They conserve your duration and effort so you can focus on more important things, like improving your business. Since they're created by experts in content marketing, they also help you build trust with your audience so they'll pay attention to what you have to say. Here is one of my favorite post makers.
Have you ever been disappointed with your social media strategy?
Do you have any idea what would be the best time to post on each channel? How many times should you post per day? How much text is too much? All of these questions and more will be answered for you by our social media post generator!
With just a few simple clicks, your post will be written, scheduled, and optimized.
What Akshara can do?
Appealing content for your Twitter posts:
Akshara is an ai generator for the Twitter post that can help you generate the best content for all your Twitter posts where you can share it on your profile every day to get more followers.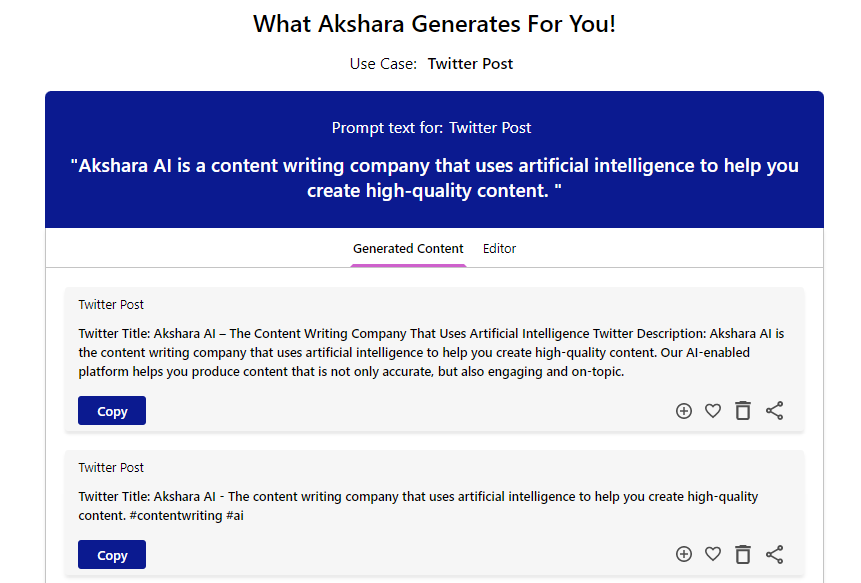 Find the perfect title for your next Twitter post:
Have you ever had a problem with coming up with a perfect title for your Twitter post? Akshara understands how difficult it can be to find a catchy, descriptive, and appealing title.
That's why we created Akshara, an ai generator for Twitter post titles. With this tool, you will never have a problem coming up with a good title for your tweets again! It uses algorithms to generate a variety of titles from different styles. Our user interface is simple enough that anyone can start writing with the click of a button!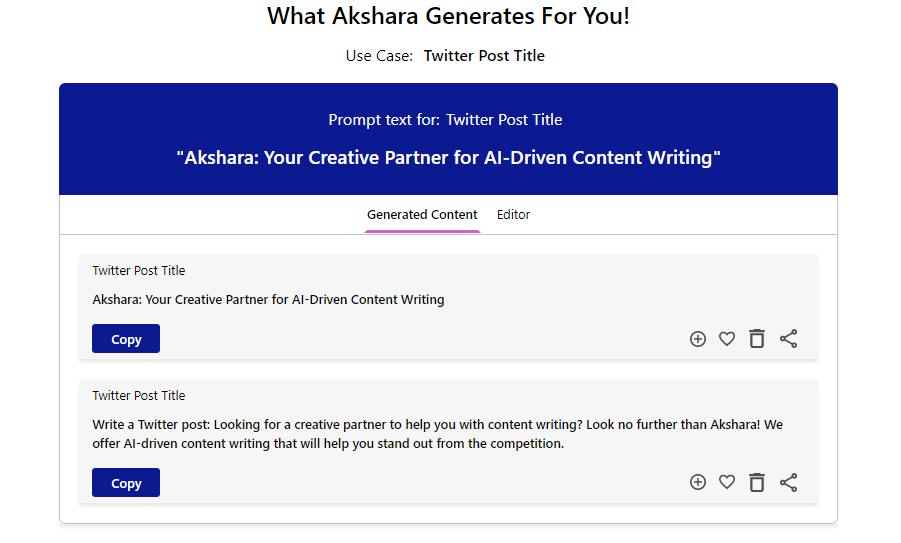 Generate LinkedIn Posts Automatically!
Did you know that LinkedIn is one of the top 3 job boards in the world? Many recruiters use this platform to hire. So, then you know how difficult it can be to stand out on this huge platform.
No one wants to spend hours creating new LinkedIn posts every day. That's why Akshara has created a way for professionals like you to automate your social marketing game with our LinkedIn post generator. You'll never spend hours researching hashtags again!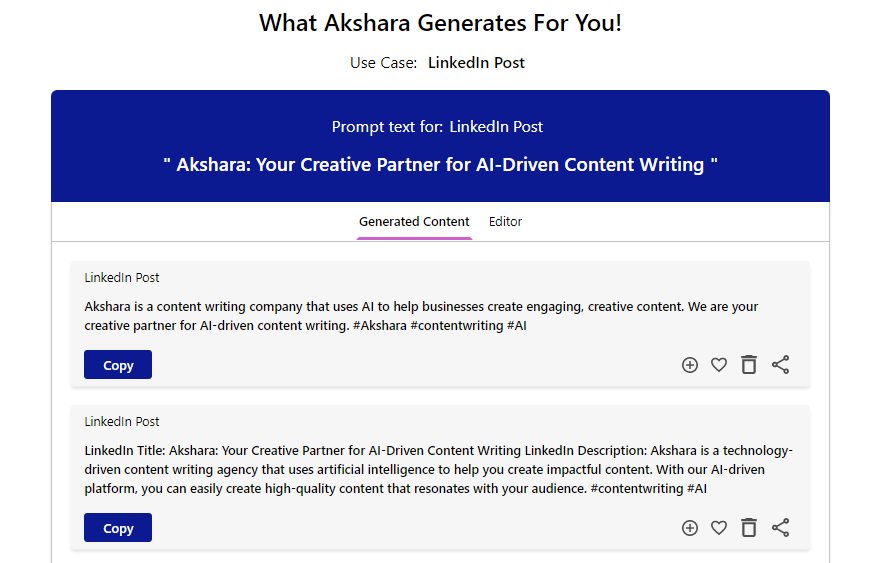 Finding a title is hard: Akshara can make it easy for you!
A Title is the most important thing which is noticed by people initially. Depending on the title, humans choose whether or not to study this publish or not. So to handle this difficult situation our Linkedin title generator helps in generating catchy titles for all of your posts. Therefore you get more clicks through rates for your content.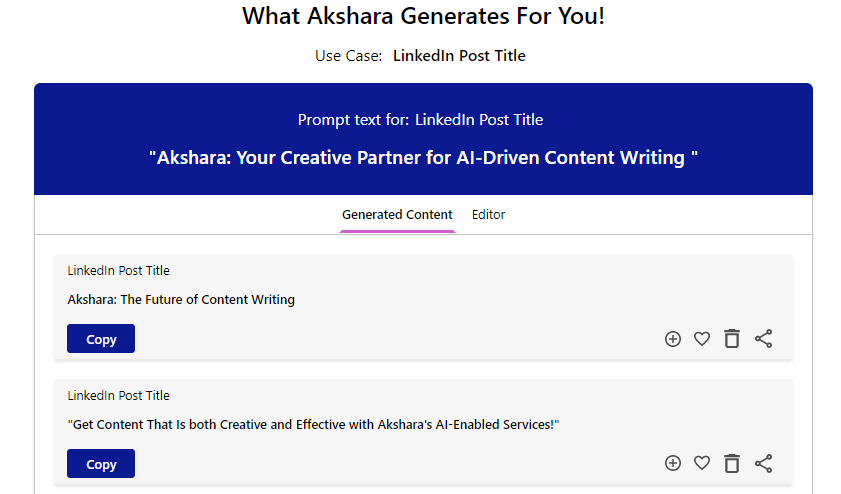 Automatically generate Facebook hashtags
With Akshara, there may be no desire to spend hours getting to know the fine hashtag strategies for social media marketing, because it does all of the difficult work for you! This ai facebook hashtag generator tool analyzes your Facebook post and generates a list of relevant hashtags based on your post topic.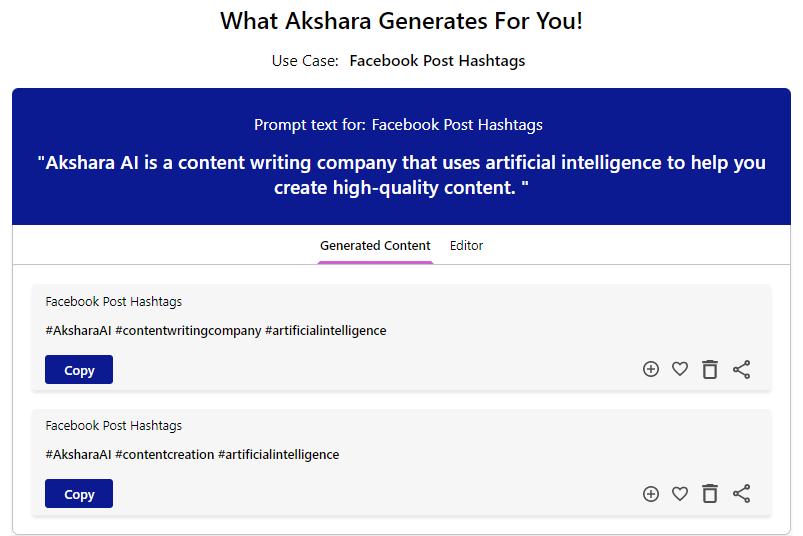 Advanced ai tweet classifier
People are constantly on social media; their feelings, thoughts, and opinions are captured in real-time. But how can you get a sense of what people are talking about? How can you find out what they are thinking? Akshara Tweet Classifier is the answer; this new system instantly classifies tweets as happy, sad, angry, or excited. Isn't this a more satisfactory way to know your customers' pulse?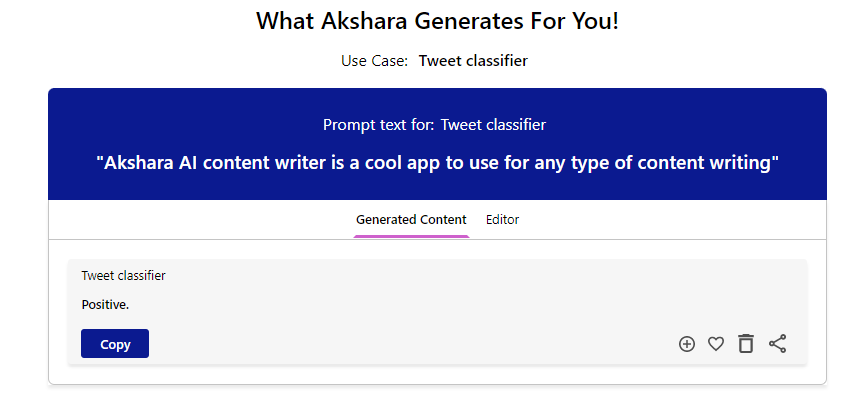 Make your Facebook posts go viral
With Akshara's ai social media post generator, you can focus on crafting the perfect post. With each tweet generated, you will be shown the number of impressions it could receive as well as key insights such as what types of users you would entice and what tags you could use in your replies.
Akshara is a developed machine this is transforming the mark on the subject of promoting your firm on Facebook. So why wait? Join thousands of users already reaping the benefits of this innovative marketing software by getting your account today!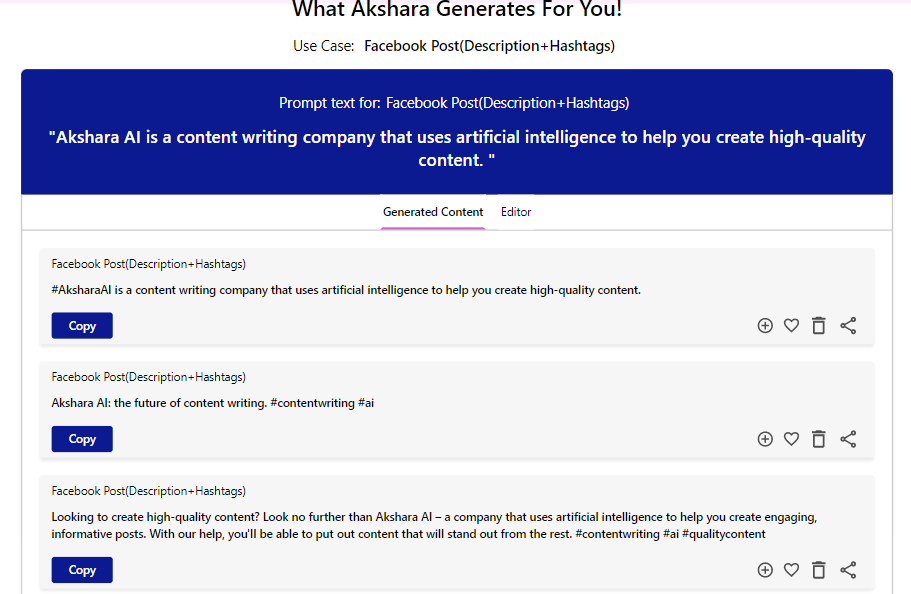 Generate hashtags and post them automatically on Twitter
It takes seconds to generate hashtags and post them through this tool. No more picking each one out manually!
Akshara saves a lot of time by generating the perfect hashtag every single time. Akshara is the tool for any Twitter user looking to expand their audience and generate higher engagement from their posts.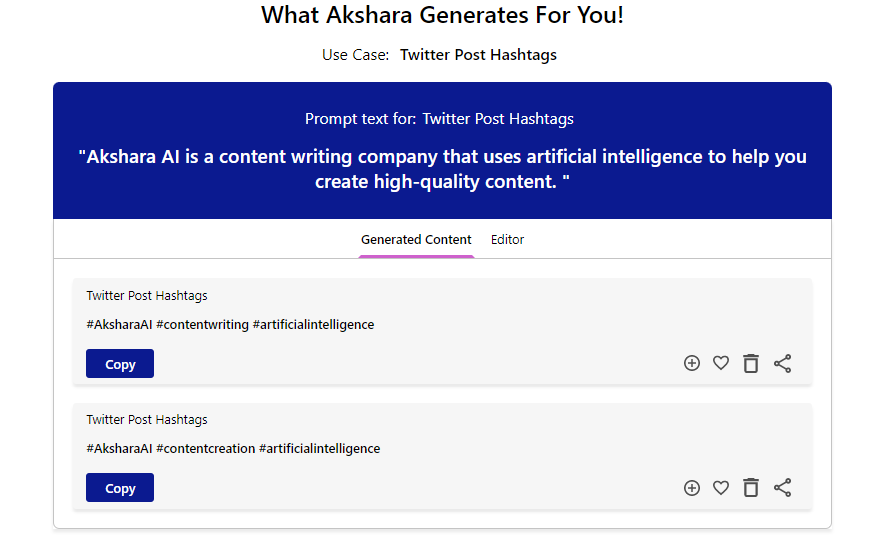 Akshara helps you generate good Reddit post hashtags
With the Internet so saturated by humans and marketing strategies, sometimes it's difficult to break through the noise. But not if you use the Akshara tool for Reddit Post Hashtags with the help of AI.
Developed by advanced artificial intelligence engineers, Akshara does more than just provide keywords. It takes into account the popularity of a keyword and its frequency of use so that your post finds its way to the top of Reddit feeds instead of being buried amidst other irrelevant posts.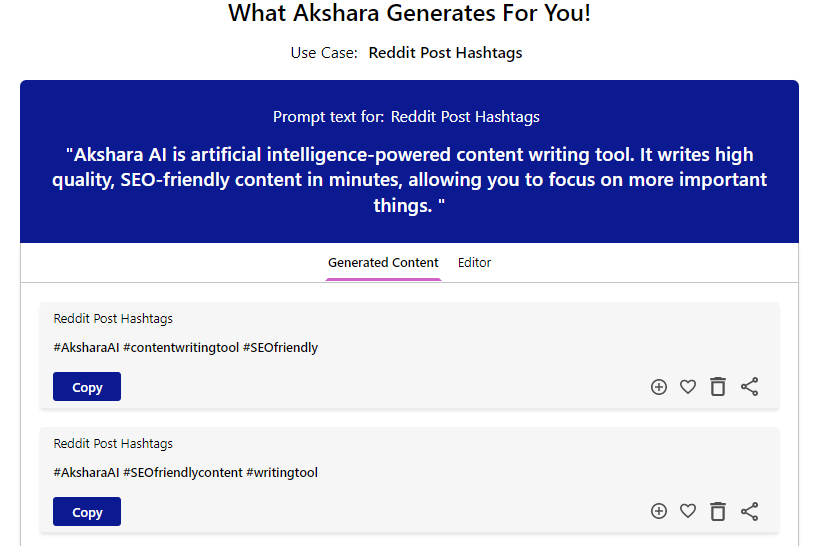 Akshara is a tool designed to help you create more useful Reddit posts
It will give you the best phases which will increase your chances of getting upvotes. Akshara remembers the expressions that constantly make people feel emotions on numerous matters they observe on social media each day. You can edit your post before posting without having to spend hours trying to figure out how to make it work.
Give your post the title it deserves.
Be witty, be thought-provoking, be informative – with our ai-based Reddit title generator. With this tool, you can generate the best titles for your Reddit posts so you can start making Reddit a more rewarding place to spend your time.

Solution 2: Use Templates
I've found that having templates available can make creating quality content easier and less expensive. Templates will also save you time when coming up with new ideas for posts and social media posts.
Tools that can help you with good templates:
Canva
Stock Layouts
FreePSDfiles
Pixeden and many more.
Solution 3: Schedule Your Posts
One of the great ways to combat this issue is by scheduling your posts. A lot of these post schedulers will let you schedule up until a few months in advance, which means that you're able to make sure that you're posting hours and days are exactly how you enjoy being without worrying about not being in tune with your purpose. One of the best tools to schedule your posts is:
Hootsuite
Crowdfire
Social Oomph
Zoho Social and many more.
Conclusion:
It can be difficult to come up with new, interesting, and engaging content every day. Why spend all that time when there are tools that can do it for you? We've figured out what works and what doesn't, so now you can focus on promoting your company rather than worrying about creating content. Akshara is a great tool for content writing - it's AI-based, so it knows what works and produces high-quality content that engages your audience.

Article By:
Spurthi Badda
(Freelance SEO Specialist)